News
Solidarity Transport
If you receive RSA, ASS , CSS (complémentaire santé solidaire) or Aide Médical d'état (AME) and you live in Ile de France , you can bénéfit from a transport pass, to travel in the « Ile de France area » either free or with a reduced price, called « solidarity Transport »
Here is a small vidéo that shows how to ask for the Solidarity Transport on line.
—————————————————————————————————————————————————————
Did you have the Aide médicale d'état [AME] between November 2018 and june 2020 ? If you have charged your pass navigo during this period You can get 75% or 25% refund !
Ask for the refund ! You can do it up to 31/03/2021
By email remboursementame@agencenavigo.fr By post : AGENCE SOLIDARITE TRANSPORT Remboursement AME complémentaire TSA 66908 95905 CERGY PONTOISE Cedex 9
Documents to send – Form: can be downloaded from the website of the 'carte solidarité transport. – Copy of card AME between novembre 2018 and juin 2020 – Copy of the pass Navigo – Or copy of the 'Navigo Découverte' with the proof of payement – R.I.B (If you have one, if not you can use the rib of a friend or a relative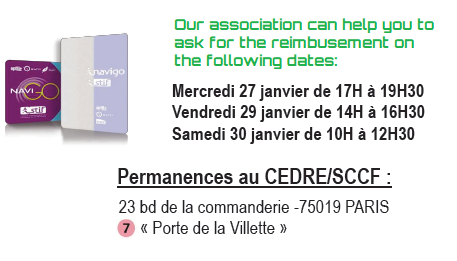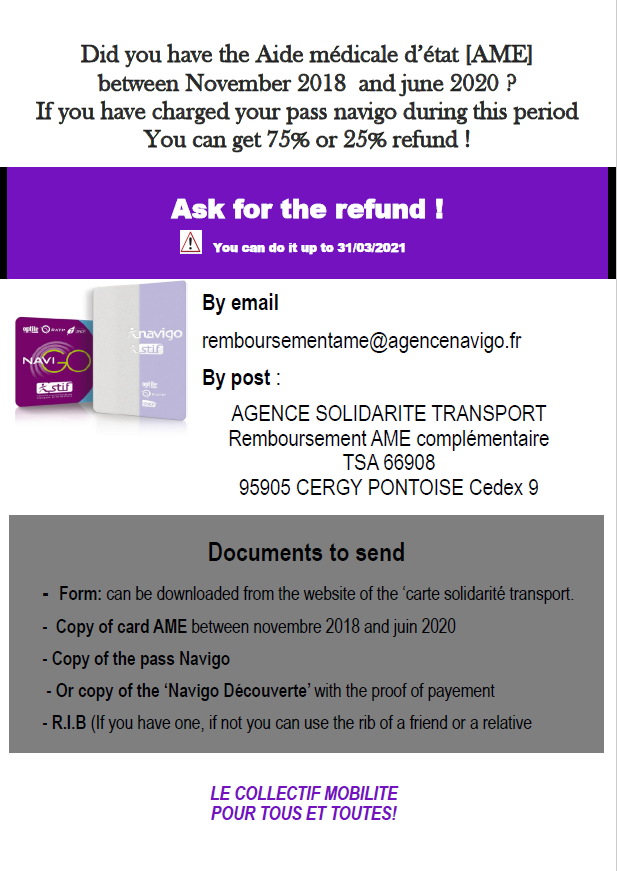 LE COLLECTIF MOBILITE POUR TOUS ET TOUTES!